¡Buenos días!
Good morning!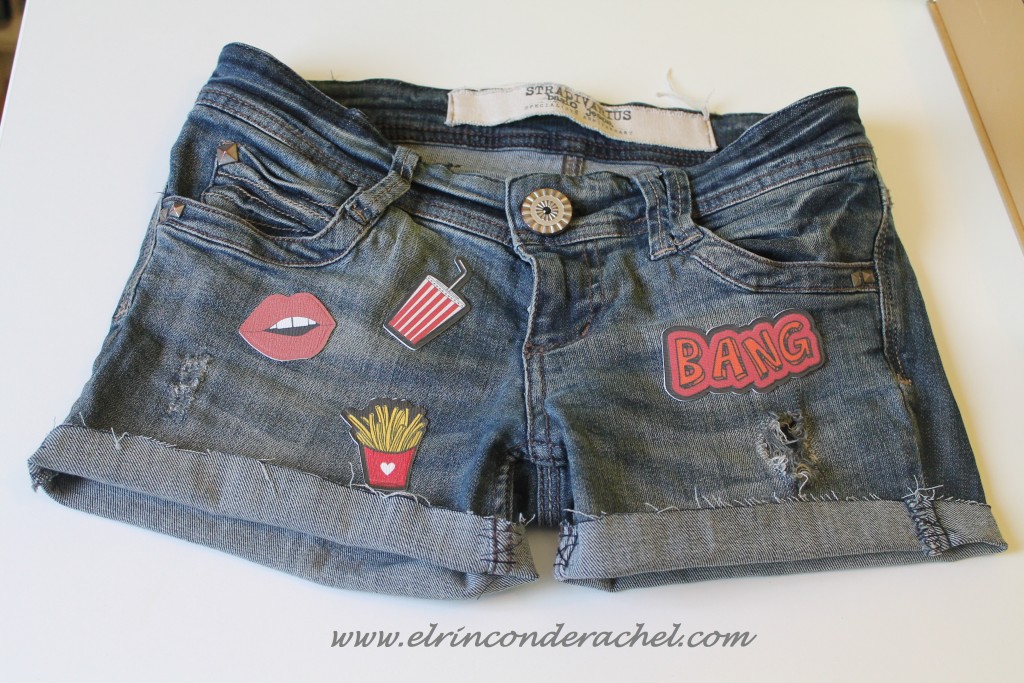 Hoy os traigo algo diferente: mi primer DIY. Como vais a ver, es algo sencillito y con elementos muy básicos que todos podemos tener o encontrar a buen precio. He decidido hacerme unos shorts vaqueros customizados. Lo que uno hace con sus propias manos, siempre sabe mejor y, además, es original y no habrá otra prenda exactamente igual, así que todo son ventajas :).
Today I bring you something different: my first DIY. As you'll see, it's something quite easy to do and for which I have used basic items that we can all have at home or buy for a reasonable price. I've decided to do my own customized denim shorts. It's well kown that what we create with our own hands is always more gratifying, original and unique so…all advantages!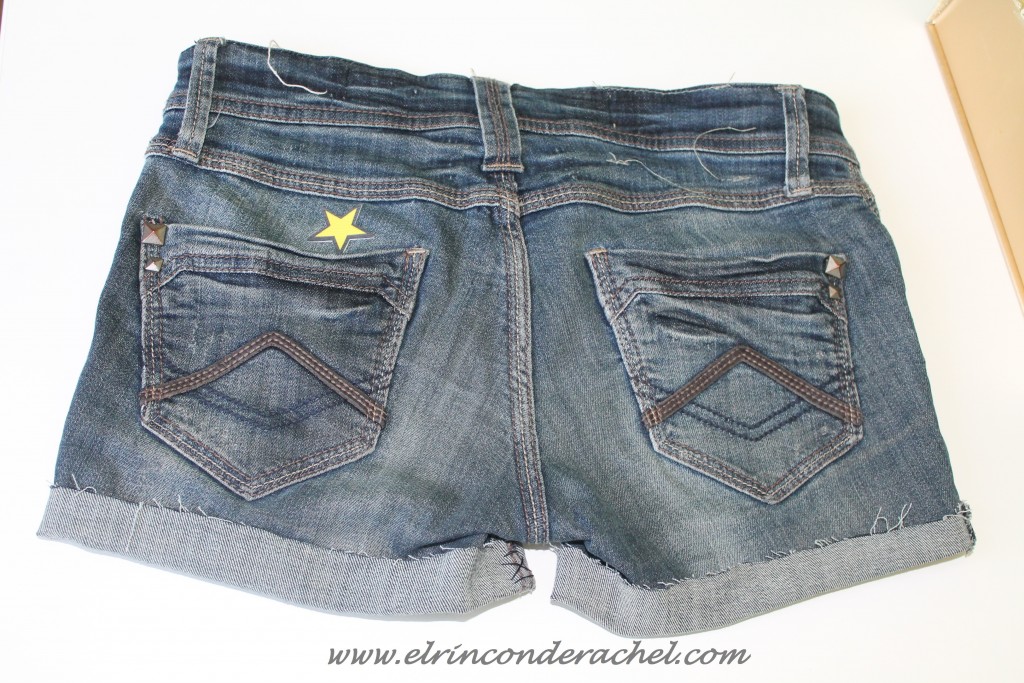 Para empezar, necesitáreis unos vaqueros desgastados que queráis transformar y unos parches. Yo he elegido unos con motivos pop que están ahora muy de moda. Compré dos sets en Stradivarius: uno con parches de los que simplemente se pegan en la ropa (5.95€) y otro con parches de tela que se adhieren al tejido símplemente planchándolos y que estaban al 50% (2.97€). Finalmente, para estos shorts, decidí utilizar sólo parches del primer set, pero vosotros podéis escoger los que más os gusten.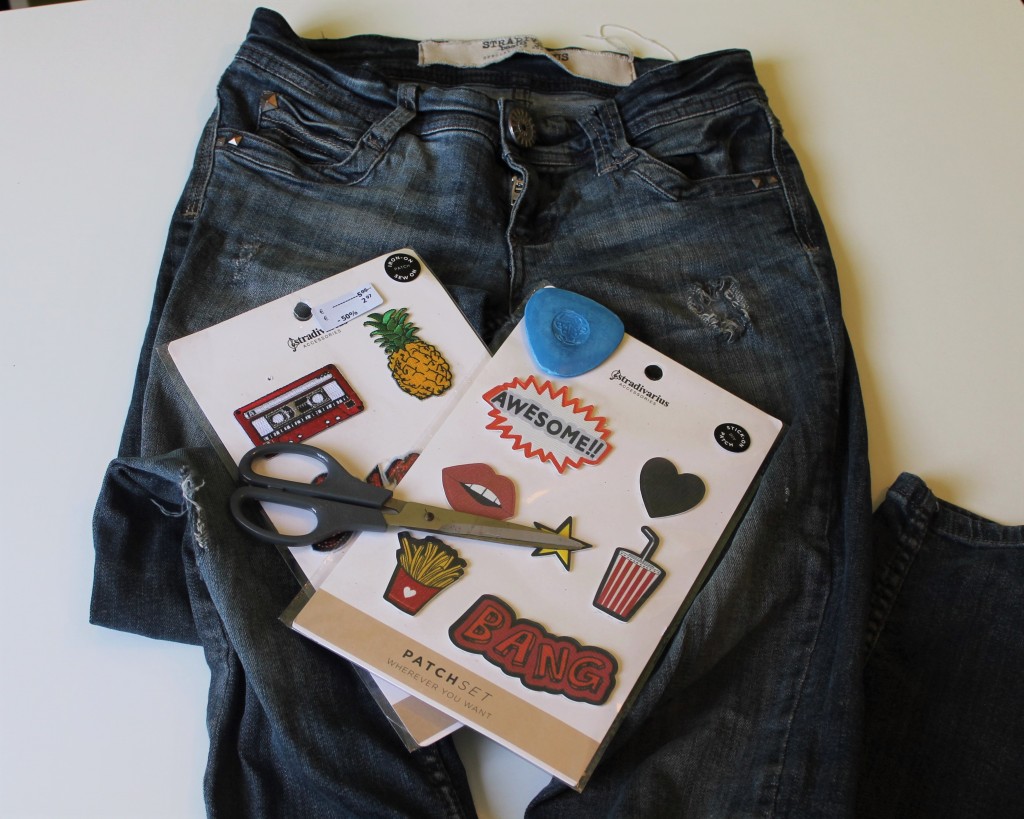 First thing you'll need are a pair of old jeans that you would like to tranform and customize and a set of patches. I've chosen one with pop icons that are really trendy at the moment. I bought two sets from stradivarius: one with stick-on patches (€5.95) and another one with iron-on patches that had a 50% discount (€2.97). I finally decided to use only patches from the first set for this DIY, but you can choose those which you like best.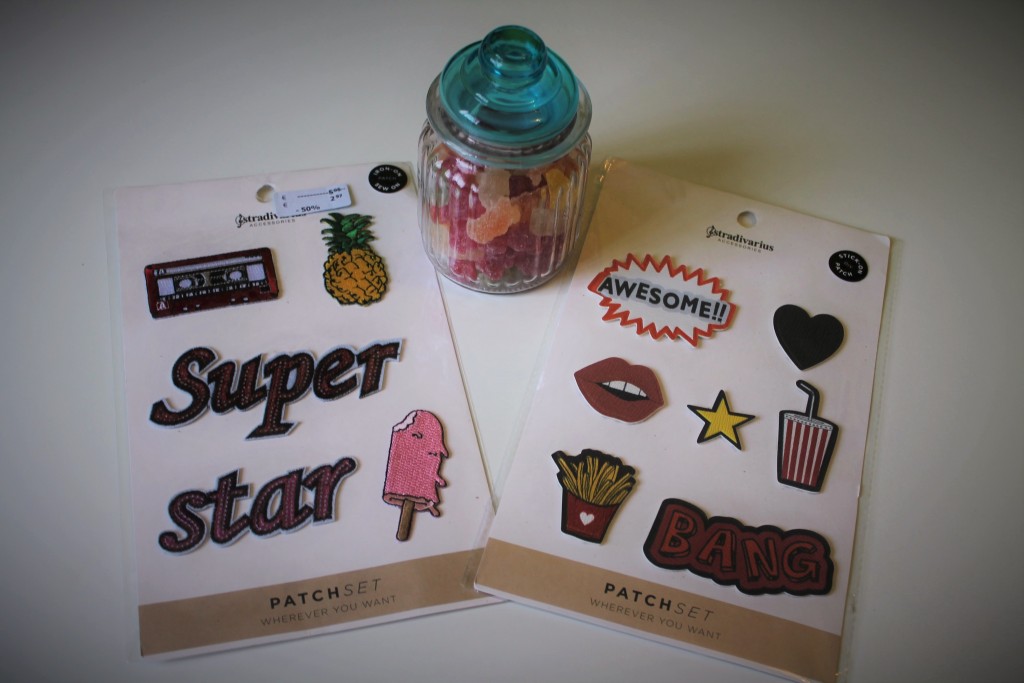 También necesitaréis una piedra de estas de costura para marcar la ropa o, en su defecto, una tiza, unas tijeras, alfileres y un metro.
You will also need something to put a mark on the fabric (a sewing stone or a piece of chalk), a pair of good scissors, a few pins and a measuring tape.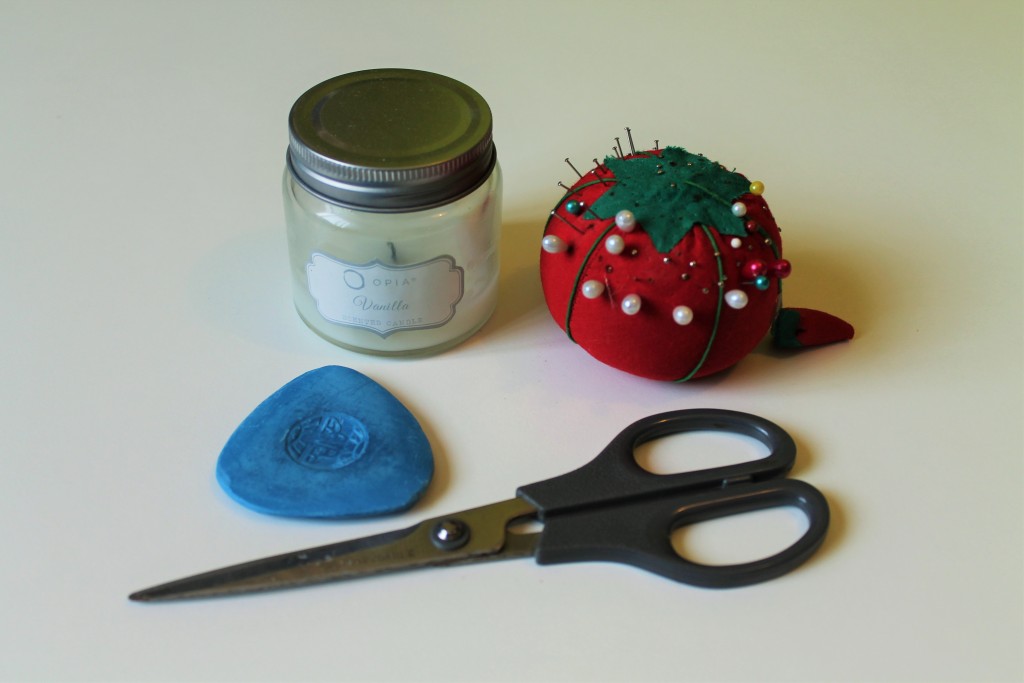 ¡Empezamos!
Pruébate los vaqueros y marca con la piedra o tiza la altura a la que los quieres cortar. Si vas a querer hacer una vuelta en ellos o un dobladillo, ten en cuenta que tendrás que contar con dejar unos dedos más de largo.
Corta los vaqueros por donde marcaste.
Let's start!
Try your jeans on and put a mark where you want the to be cut. Bear in mind that if you want a hem or turn-up you will need to add a couple of extra cm to that lenght. 

Cut your jeans.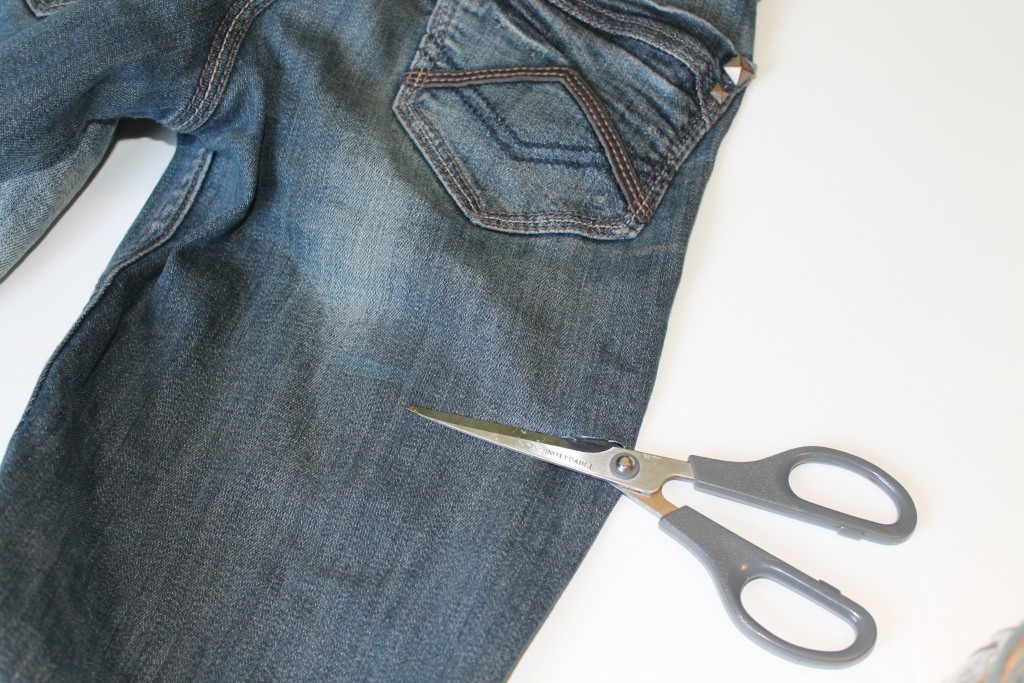 3. Con un metro, mide la otra pierna, marca y corta por la misma medida. Si quieres hacer una sola vuelta como he hecho yo, da unas puntadas en las costuras de cada lado tanto en la parte externa (caderas) como interna (muslos) para fijarlas. Si has dejado más longitud, también puedes dar dos vueltas y te ahorras tener que coser, ya esto va a gusto del consumidor 😉
3. With the help of a measuring tape, put a mark on the other leg at the same length and cut it.  If you wish to hem the shorts, this is the time. In my case, I decided to fold them up once and sew the seams on both sides of the legs. However, you can also hem them in the traditional way or fold them up once again and avoid the sewing. Up to you!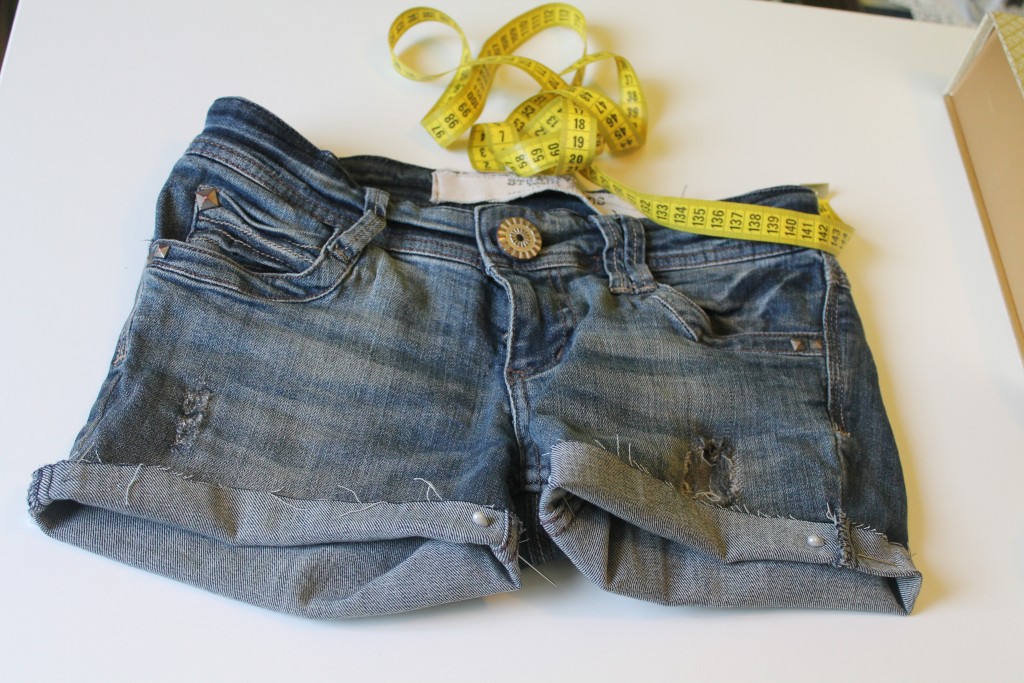 4. Elige dónde quieres poner tus parches. Ya sólo queda pegarlos haciendo presión durante unos segundos o planchándolos con una tela encima (según el tipo de parches que sean), en el lugar elegido y ¡voilà! ya tienes unos shorts molones, a la moda y sobre todo, ¡únicos!.
4. Choose where you would like your patches to be located ans stick them by pressing firmly for a few secs or ironing them with a cloth on top (depending on the type of patches you have chosen) and…voilà! Your shorts are ready!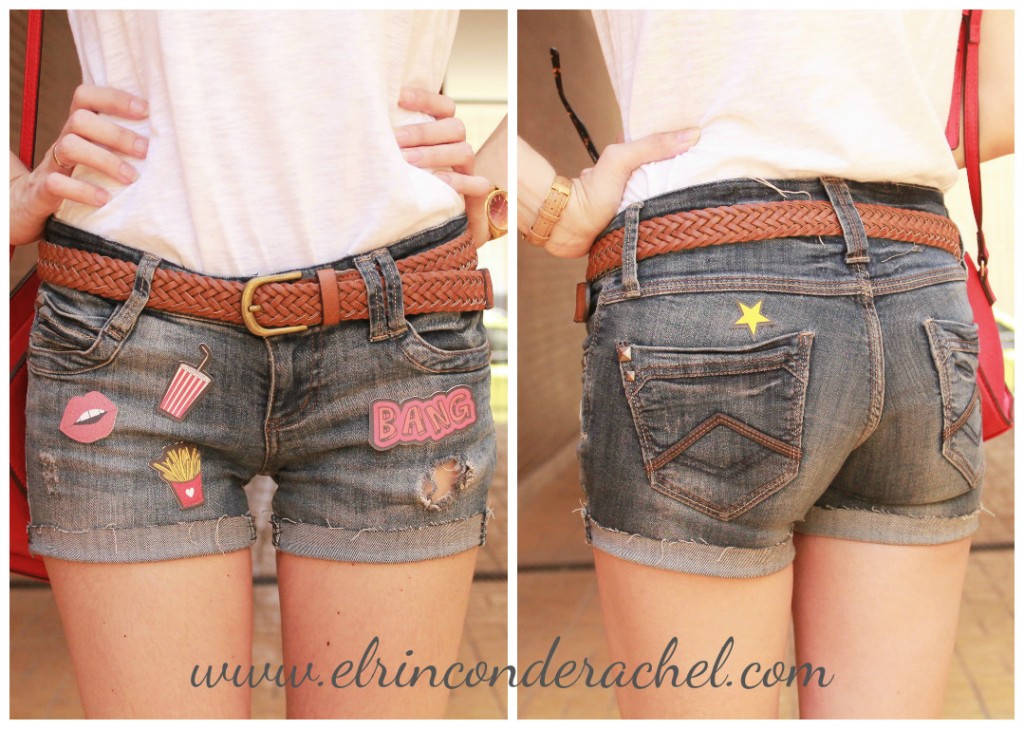 Y eso ha sido todo por hoy. Ya veis que es muy fácil y muy resultón…¿os animáis a hacerlo? 🙂
Gracias por leer y ¡Que paséis una semana estupenda!
And that's all for today! As you can see, this DIY is quite easy to do so I hope you'll try! 🙂
Thanks for reading! Have a wonderful week!
Lots of love,
Raquel