¡Buenos días!
Good morning!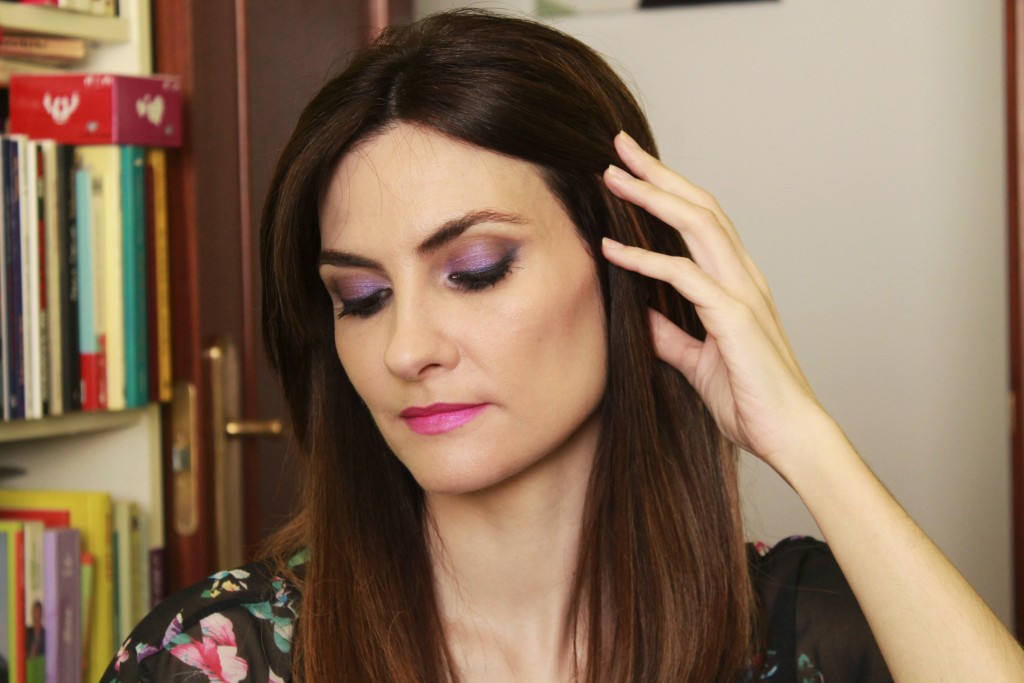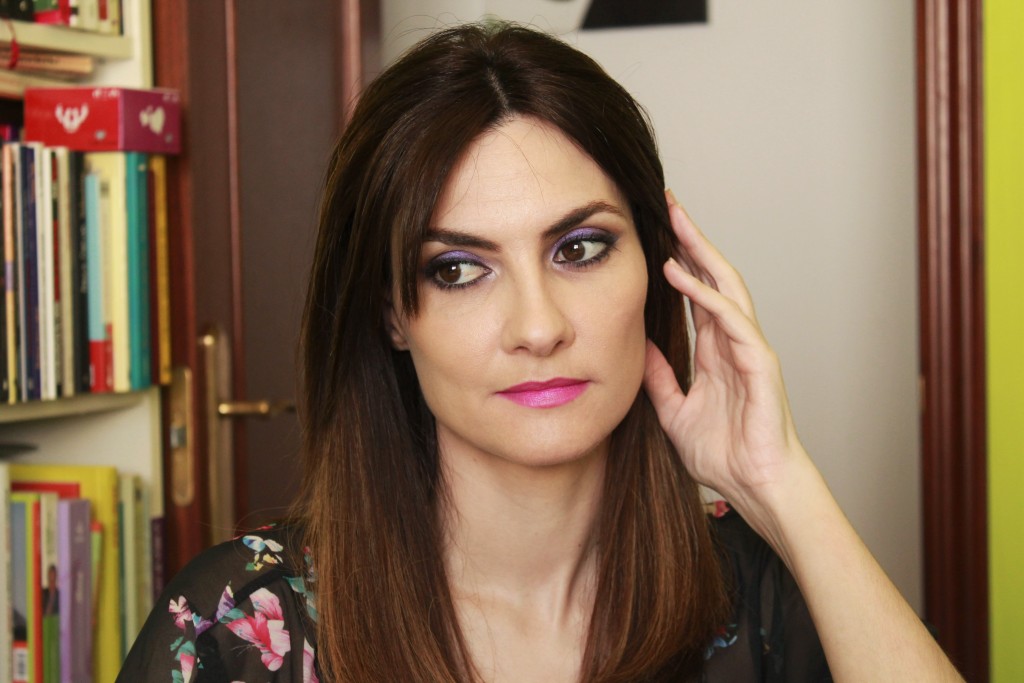 Hoy os traigo un look potente en tonos morados y con labios rosa flúor. Ya sabéis que estos colores me parecen perfectos para la primavera. En los ojos, para contrarrestar un poco la potencia del conjunto del maquillaje, he optado por un delineado algo difuminado, sobre todo en el tercio externo del ojo, para que quede integrado con el resto de sombras. ¡Espero que os guste!
Today, I bring you a potent makeup look with purple smokey eyes and fluor pink lips. You all know that I love these shades and consider them to be perfect for the Spring. I've opted for a soft well-blended eyeliner in order to balance the rest of the look. I hope you like the result!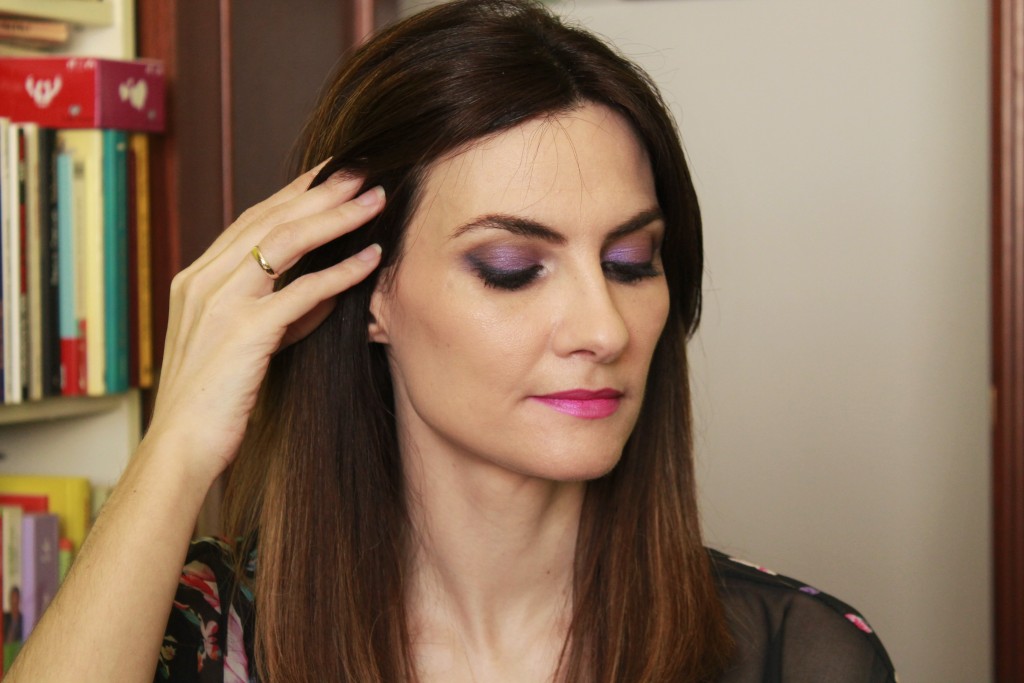 Ojos: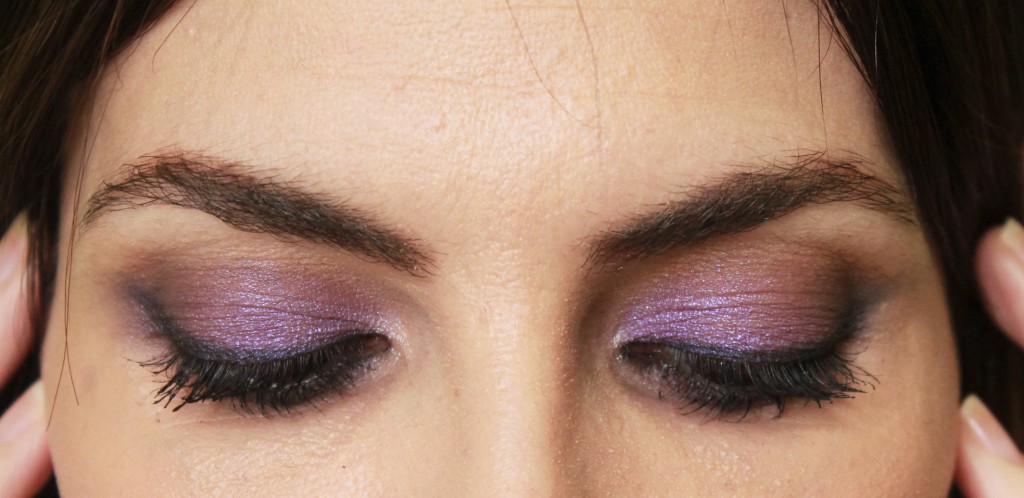 1. Aplicamos una prebase para sombras  (yo he usado la «Shadow Insurance» de Too Faced) y, a continuación aplicamos la sombra «Caramel» de Nabla o similar (cámel mate) por toda la cuenca del ojo, la  V externa y el párpado inferios con un pincel de difuminar.
2. A continuación aplicamos una sombra en crema lila  «Color 7» de Debbie por todo el párpado móvil y difuminamos. Hacemos lo mismo en la línea de pestañas inferiores.
3. Aplicamos la sombra «Brulée» de Wet n Wild o similar (color crema mate) para iluminar el arco de la ceja.

4. A toquecitos con un pincel húmedecido con agua termal o algún producto hecho para este fin (yo he usado el «Mixing Solution» de KIKO), aplicamos un pigmento morado metalizado (KIKO num. 05 ) por todo el párpado móvil y difuminamos cortes.
5. Oscurecemos el tercio externo del párpado superior y toda la línea de pestañas inferior con una sombra morada más oscura (yo he usado el morado oscuro de la paleta «Petal Pusher» de Wet n Wild y difuminamos y con un color luminoso (yo he usado el rosa claro nacarado de la misma paleta) iluminamos el lagrimal.
6. Delineamos ambas líneas de agua con un lápiz negro y trazamos un delineado con sombra negra mate difuminando bien, sobre todo en la zona del rabillo para integrar con el resto de sombras.
7. Finalmente rizamos pestañas y aplicamos máscara (en este caso la "Roller Lash" de Benefit y la "Better than Sex" de Too Faced). Si quieres saber más sobre estas máscaras de pestañas pincha aquí.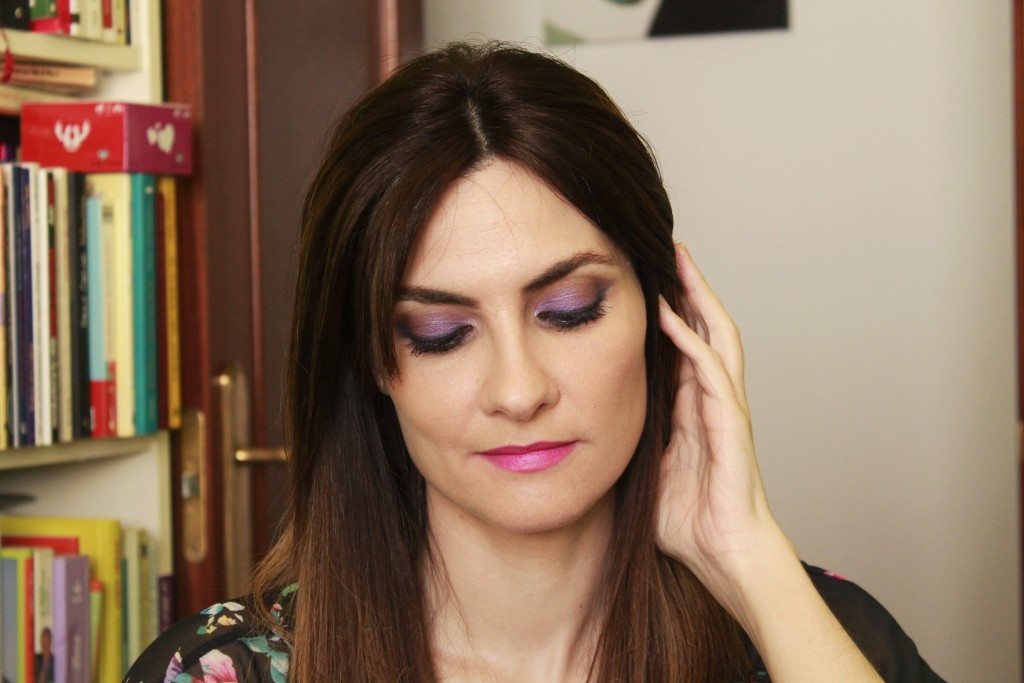 Eyes:
1. First thing is to apply an eye primer («Shadow Insurance» by Too Faced») and then apply «Caramel» by Nabla  (matte camel shade) or similar to your socket, outter V and lower lashline and blend well.
2. We apply a purple cream eyeshadow («Color 7» by Debbie) and blend. Do the same on your lower lashline.
3. Use «Brulèe» by Wet n Wild  (matte cream shade) to highlight your brow arch.
4. With a damp flat brush (with KIKO «Mixing Solution» os similar) apply a metallic purple loose pigment «KIKO num. 05» to your upper lid and blend. 
5. Intensify the outter v and lower lashline with a dark purple eyeshadow («Petal Pusher Palette» by Wet n wild) and apply a light pearly pink shade (from the same palette) to illuminate your tear duct. 
6. Apply a black eye pencil to both waterlines and draw a winged liner both on the upper and the lower lashlines with a matte black eyeshadow smoking it out carefully.
7. Finally, we curl our lashes and apply mascara (a coat of Benefit "Roller Lash" and another coat of Too Faced "Better than Sex".)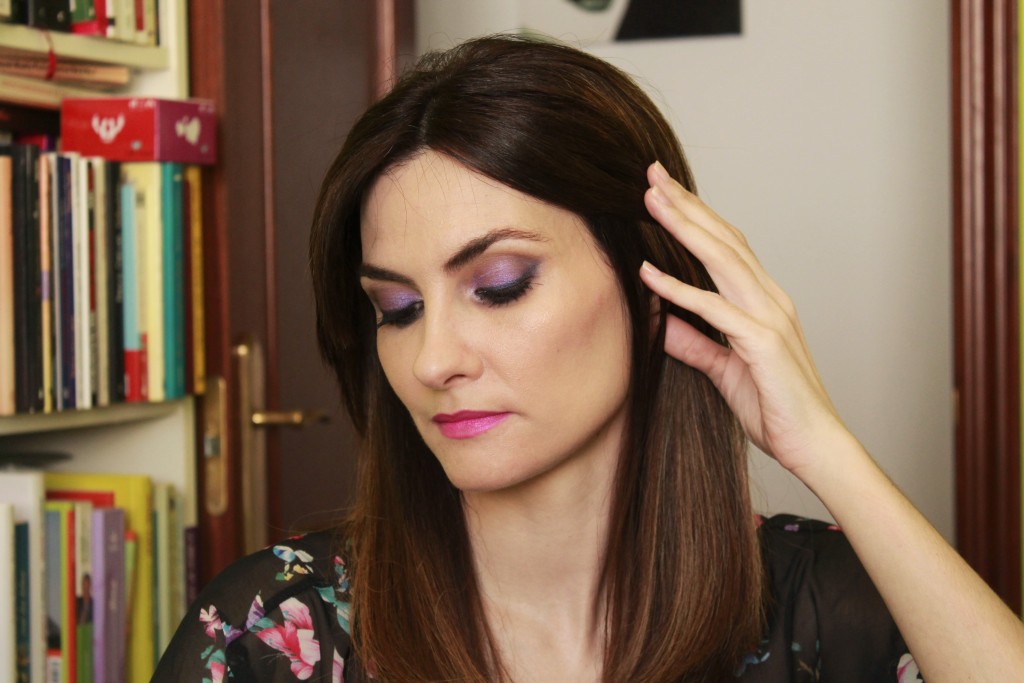 Cejas:
Rellené los huequitos con el lápiz para cejas en el tono "02 Medium" de Sephora y para fijarlas, usé el "Brow Drama" de Maybelline en el tono "Medium Brown".
Brows:
I filled them in with the Sephora Brow Pencil in "02 Medium" shade and applied the Maybelline "Brow Drama" in "Medium Brown" shade.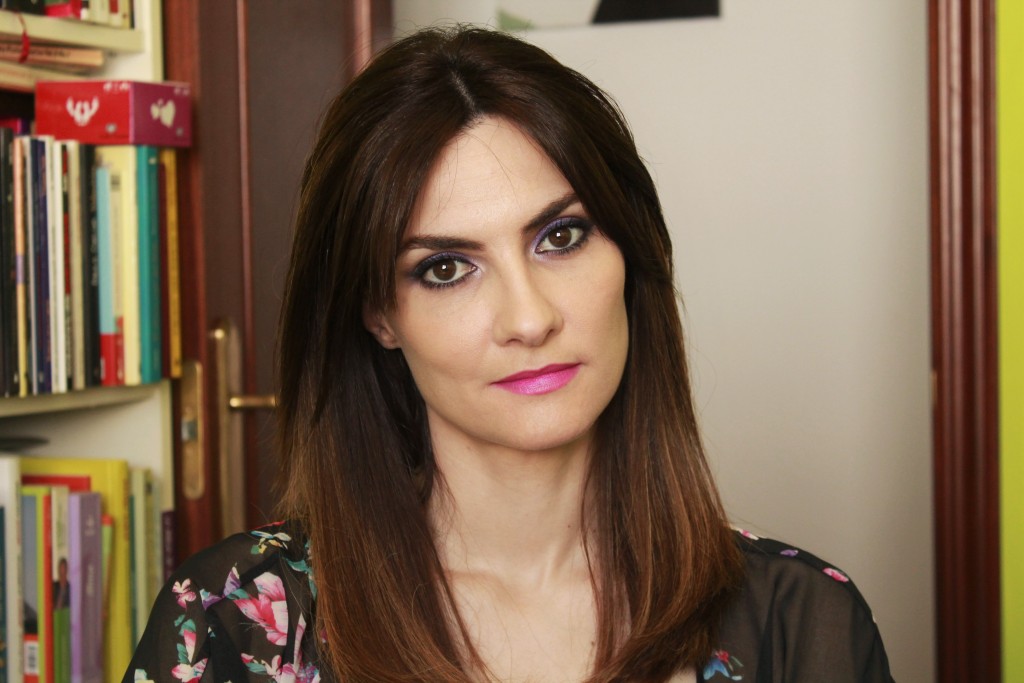 Rostro:
Como corrector en ojeras e imperfecciones usé "El Borrador" de Maybelline en el tono "Light" y como base, la «Double Wear» de Esteè Lauder y lo apliqué a a toquecitos con la Beauty Blender. Luego lo sellé todo con una capa muy fina de los polvos sueltos "Banana Luxury Powder" de Ben Nye, aplicados con la brocha para polvos de Ecotools. Para dar un poco de color al rostro usé los  «Polvos Mosaico broceadores» de la línea «Couvrance» de Avène  y como colorete utilicé el "Terracota Blush On» de Flormar en el tono «047» (rosa fluor de base azulada) aplicando muy poca cantidad. Por último apliqué el «Copacabana» de Nars para iluminar pómulos, puente de la nariz y arco de cupido con la «Setting Brush» de Real Techniques.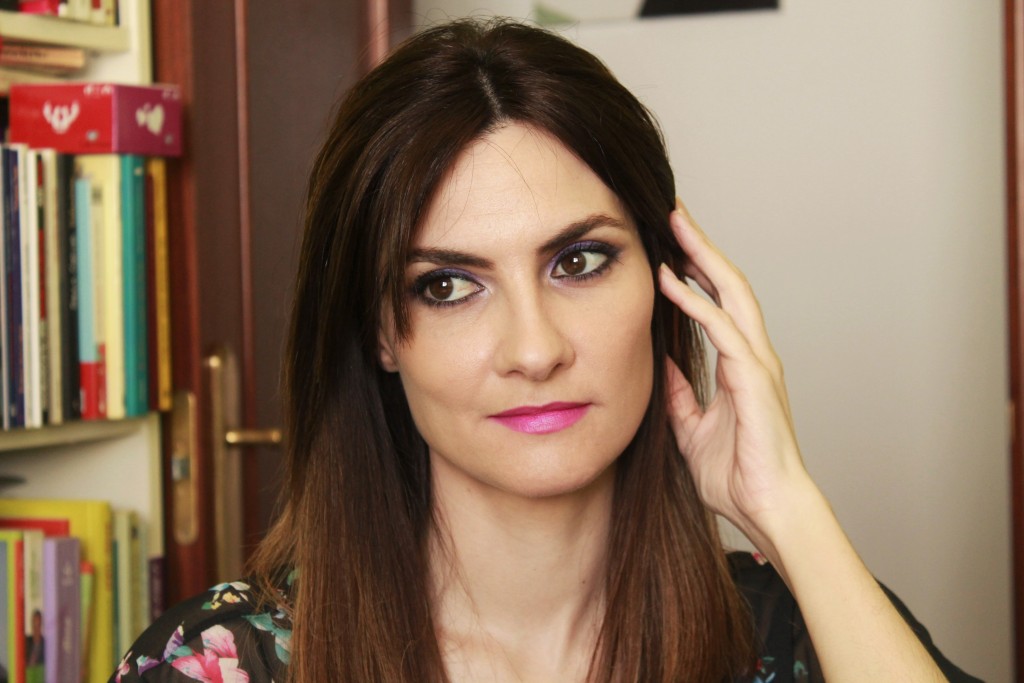 Face:
As a concealer, I used Maybelline "Instant Age Rewind" in the lightest shade to cover imperfections and my undereye area and then, applied «Double Wear Foundation» by Esteé Lauder with the Beauty Blender. Finally, I used "Banana Luxury Powder" by Ben Nye to set all my make up. As a bronzer I used «Couvrance Bronzer Mosaic Powder» by Avène  and applied Flormar «Terracota Blush On» in shade «047» with a light hand to the apples of my cheeks and «Copacabana» by Nars to highlight my cheekbones, bridge of my nose and my Cupid's Bow with the Real Techniques «Setting Brush».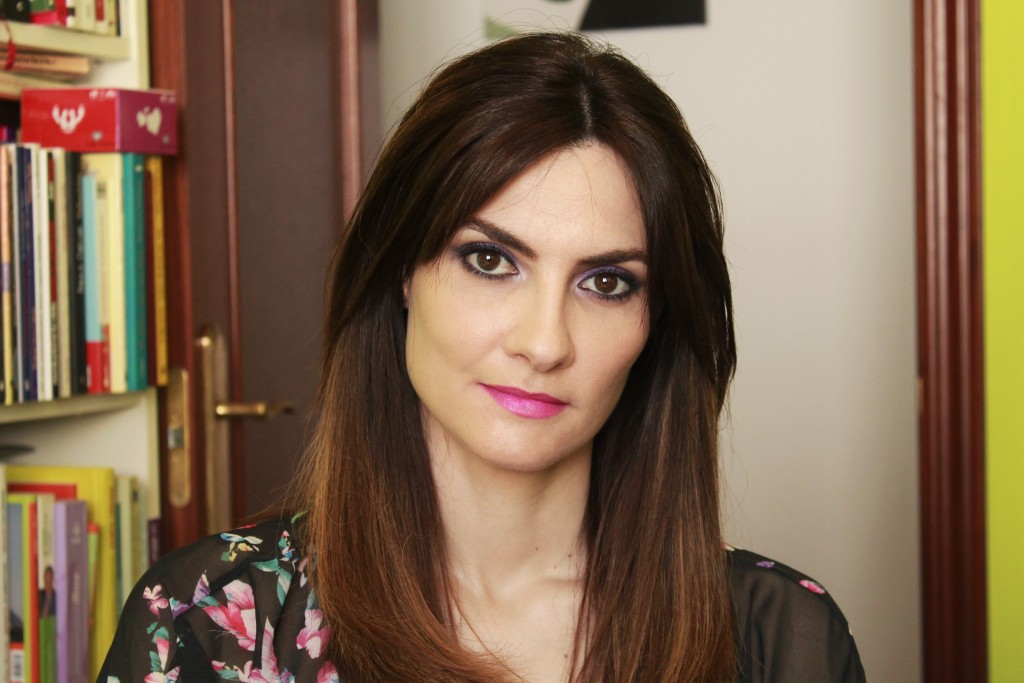 Labios:
Labial  «Pretty Cream & Glaze Lipstick» de Flormar en el tono «P318» (descatalogado).
Lips:
«Pretty Cream & Glaze Lipstick» by Flormar in shade «P318» (discontinued).
¡Y eso ha sido todo por hoy!
¡No olvidéis suscribiros y seguirme por redes sociales!
¡Gracias y hasta pronto!
Raquel
And that's all!
Don't forget to subscribe and follow me on my social networks! 😉
Thanks and see you soon!
Raquel