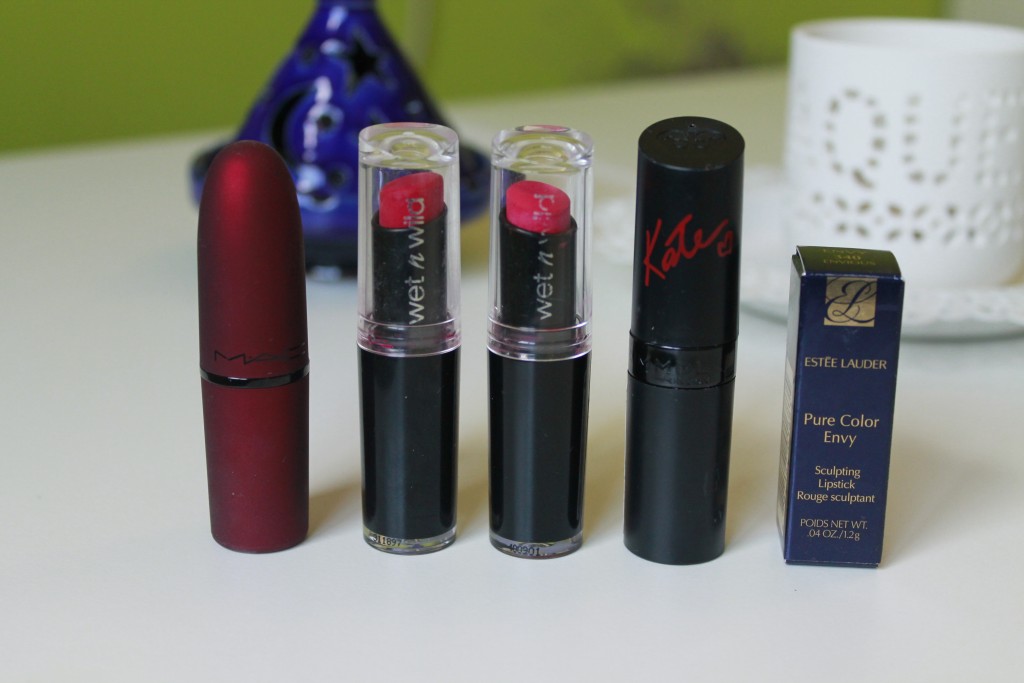 ¡Buenos días de viernes a todos!
Ya está aquí el fin de semana y hoy quería hablaros de mis top 5 labiales rojos del momento. El rojo es un color que aporta alegría y sensualidad y que creo que favorece a todo el mundo. Todo es cuestión de encontrar aquella tonalidad dentro de la variedad de rojos que existe, que vaya contigo. Yo os dejo aquí los que en este momento, son más estoy usando y algunos consejos para su correcta aplicación. ¡Espero que os sea útil!
Good morning!
Friday at last! Today I wanted to tell you about my 5 top red lipsticks. From my point of view, this colour adds light and sensuality to the face and I consider it to be flattering for everyone as long as you find the shade that fits you. I'm going to talk about my favs and give you a few tips for a correct application. Hope it's helpful!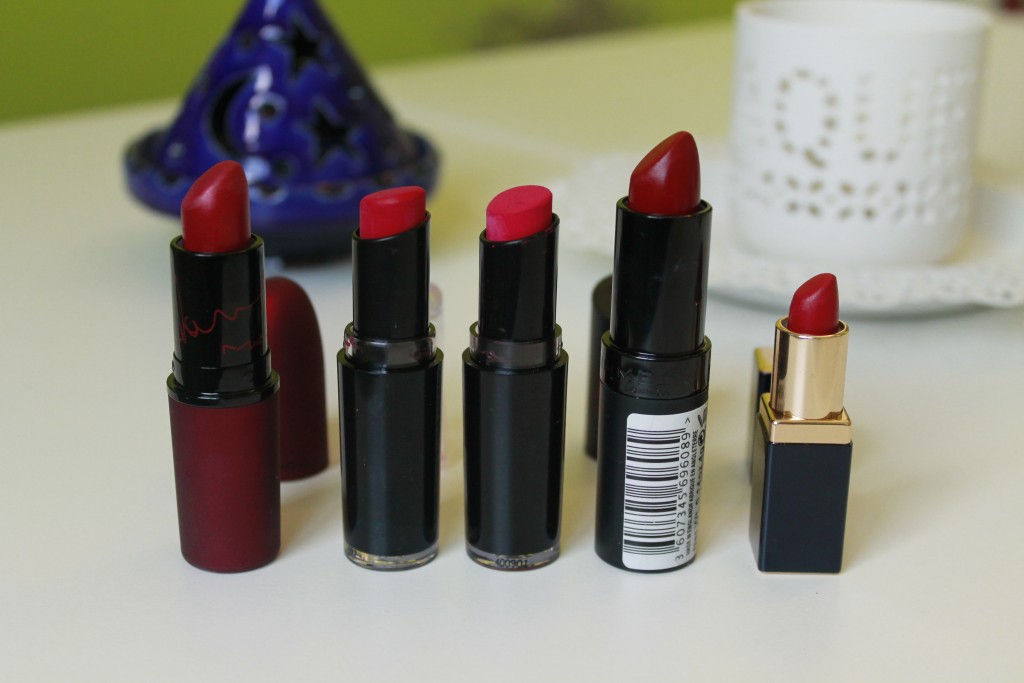 Viva Glam Rihanna (Mac) : es un rojo potente muy especial, ya que es de acabado escarchado (frost), por lo que tiene un punto metalizado. Es un labial de los que hacen volver la cabeza y la pigmentación y duración son buenísimas.
E911D Stoplight Red (Wet n Wild): es un rojo intenso de base azulada que queda muy elegante y no amarillea los dientes. Se dice que es clon del "Russian Red" de Mac.
E910D Red Velvet (Wet n Wild): es también un rojo muy intenso pero de base un poco más anaranjada que el anterior. Parece ser que es clon del "Ruby Woo" de Mac.
Lasting Finish by Kate Lipstick 01 (Rimmel London): Es un rojo clásico, de base azulada e intenso, de esos hacia los que se te van los ojos nada más verlo. Pigmenta de 10.
Pure Color Envy 340 (Estée Lauder): se trata de un rojo clásico de base azulada y fórmula muy cubriente. Su textura tiene el punto justo de cremosidad, se fija perfectamente al labio sin ser mate y dura horas. Como veis, lo que tengo es un formato mini que compré en Primor para probarlo en una promo que hicieron, pero cuando lo termine lo adquiriré sin dudarlo porque me ha encantado y lo llevo muy cómodo.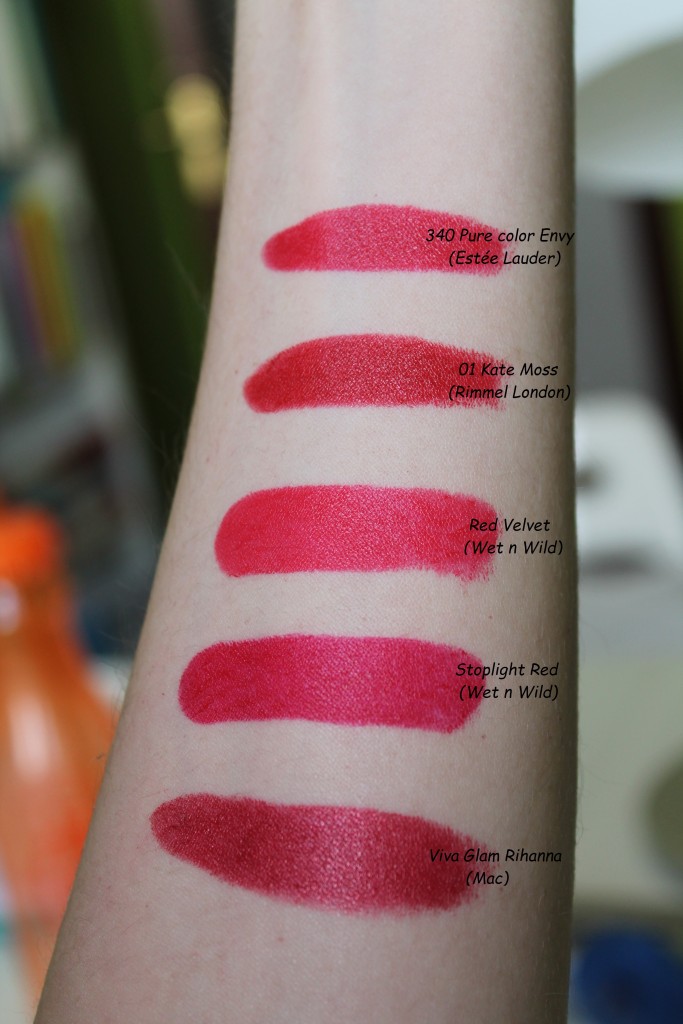 Viva Glam Rihanna (Mac) : it is a very special and intense red shade, as it has a frost finish. It is one of those lipsticks that will catcha your attention at first sight. It's long lasting and its pigmentation is a really good one.
E911D Stoplight Red (Wet n Wild): an intense and smart red shade with blue undertones that will make your teeth look brighter and white. They say it's quite similar to "Russian Red" by Mac.
E910D Red Velvet (Wet n Wild): an intense but bright red with orange undertones. Similar to  "Ruby Woo" by Mac.
Lasting Finish by Kate Lipstick 01 (Rimmel London): classic red with blue undertones. This is the type of red you could find in a classical Hollywood film. Excellent pigmentation.
Pure Color Envy 340 (Estée Lauder): Pure red with blue undertones again. Excellent texture with the exact touch of creaminess. It glides on smoothly, covers the lips perfectly  and it lasts really long. As you can see, what I have is a miniature that I bought from Primor because I wanted to give it a try and I will definitely buy the full size as I've fallen in love with it.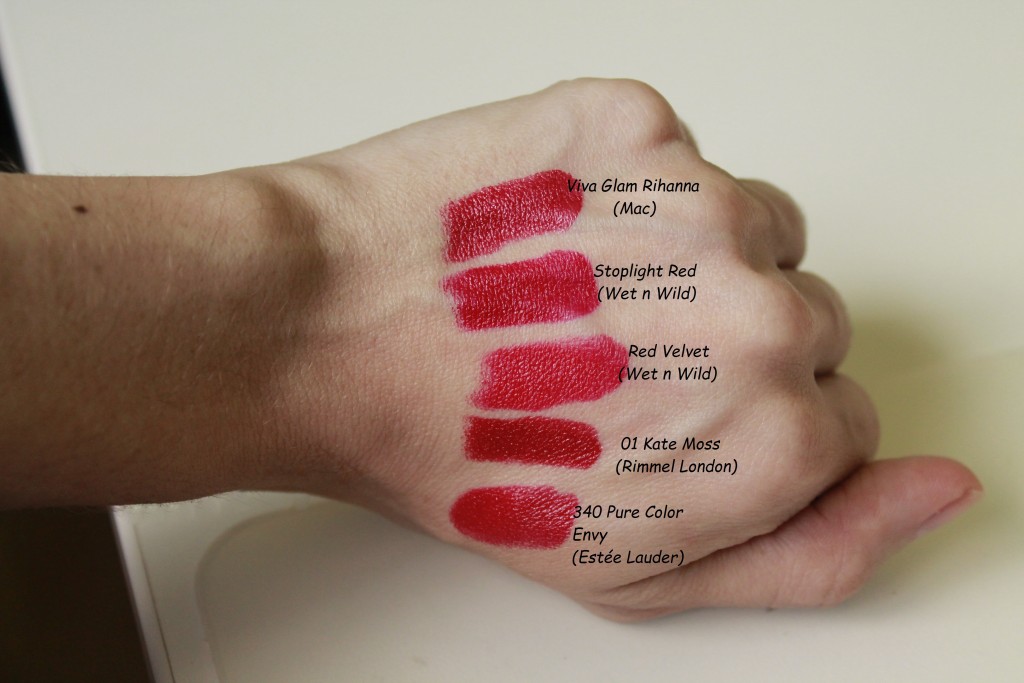 Aplicar un labial intenso requiere un poco más de cuidado y de paciencia, ya que si cometemos algún error, éste será mucho más evidente que con tonos más suaves. Os comento los pasos que yo sigo:
Applying an intense lipstick can be a bit hard. It requires more care and patience because in case of mistake, it will be a lot more obvious than if we were using a lighter shade, so I wanted to explain the steps I normally follow: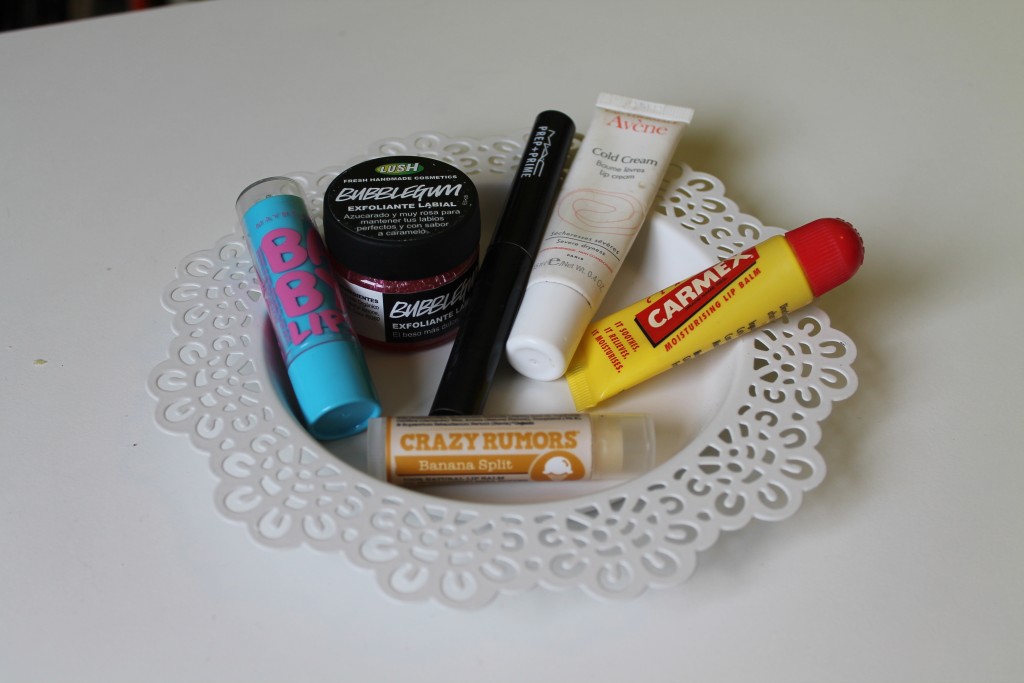 Siempre es conveniente exfoliar e hidratar los labios antes de aplicar el labial, así evitaremos que nos salgan pellejitos y grietas, especialmente si vamos a utilizar texturas mate, que son las que más resecan. (Si quieres ver qué productos uso para esto pincha aquí).
Antes de aplicar labiales intensos siempre hago uso de un primer para labios. El que más suelo utilizar es el "Prep+Prime" de Mac. De esta forma consigo que la superficie quede más lisa y uniforme.
Por último, siempre perfilo los labios con un lápiz lo más parecido al labial posible. Esto me permite delimitar bien el contorno y que el labial no se salga. El acabado es mucho más pulido. Recomiendo delinear por el borde natural de vuestro labio y rellenar un poco el interior del labio para fijar más el labial que vayamos a poner encima.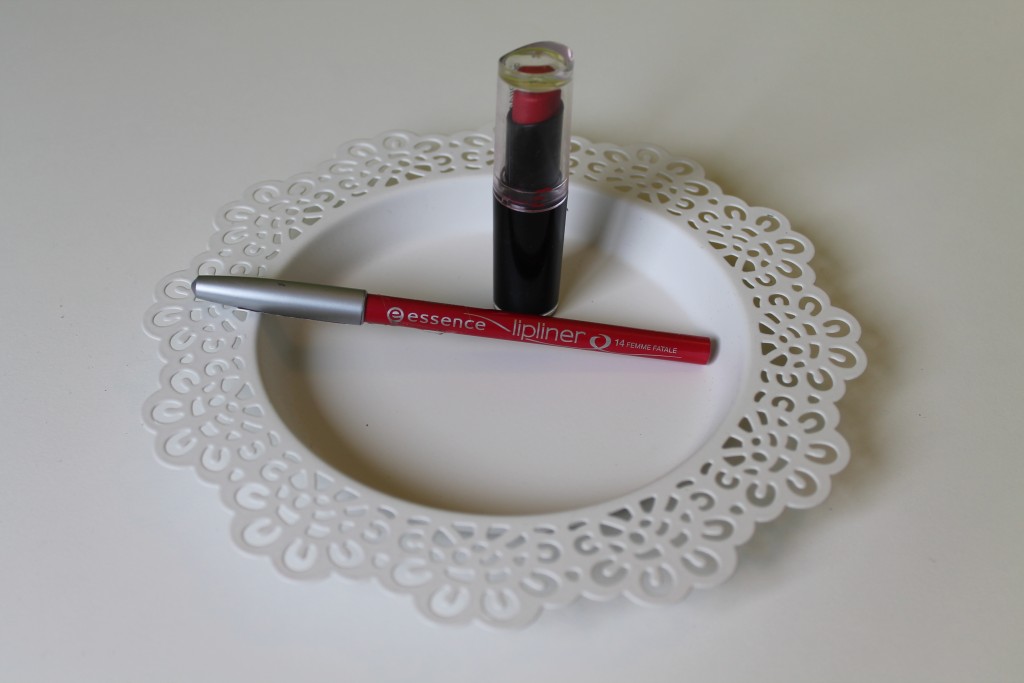 Always exfoliate and moisturize your lips before applying your lipstick; you will avoid flakes and dryness, specially with matte textures. (If you want to know more about the products I use, click here). 
Use a lip primer to make your lips look smoother. I normally use Mac "Prep n Prime" for this purpose.
Finally, line your lips in a shade which is close to the lipstick you are going to use,  following your natural lip shape and a bit inwards. This, will prevent the lipstick from feathering and will give a more proffesional finish.
Y eso ha sido todo por hoy 🙂 ¡Os deseo un felicísimo fin de semana!
And that's all for today! Have a great weekend!
Raquel