¡Buenos días a todos!
¡San viernes! Hoy os muestro el maquillaje que llevaba en el outfit que publiqué el Lunes (si aún no lo has visto pincha aquí). Se trata de un ahumado suave en cobre con delineado difuminado que estoy llevando mucho últimamente. ¡Vamos allá!
Good morning everyone!
Friday at last! The makeup look you are about to see is the one I was wearing in the outfit I posted last Monday (you can see it here). It is a soft copper smokey eye with also smoked eyeliner that I've been wearing a lot lately. Let's start!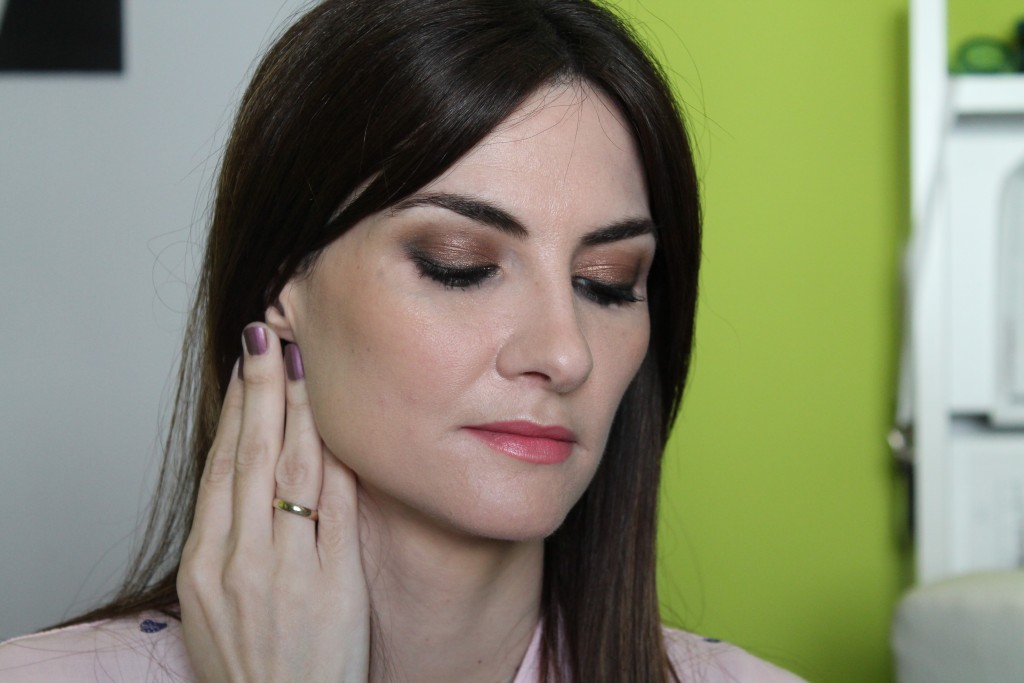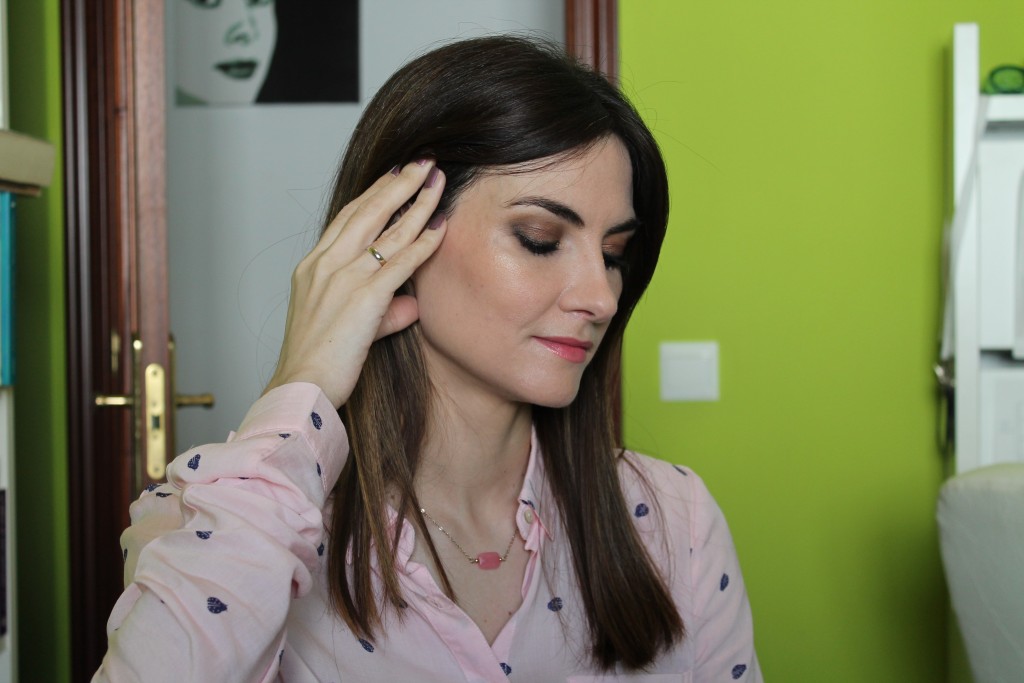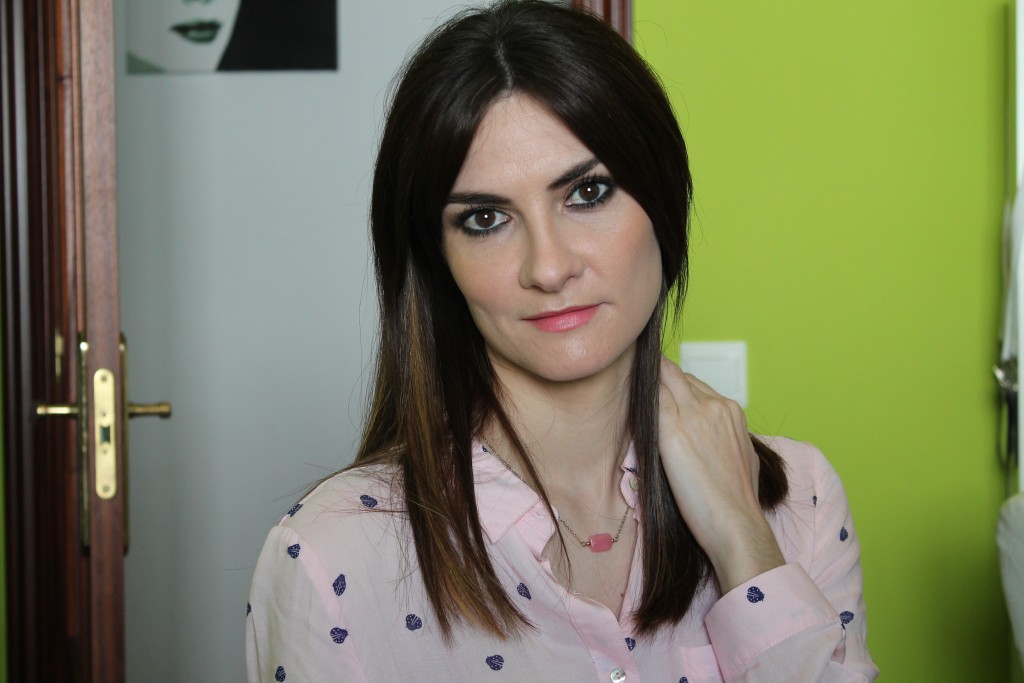 Ojos:
Lo primero es usar una prebase para párpados (yo he usado la "Shadow Insurance" de Too Faced). Luego, aplicamos una sombra de transición en tono cámel (yo he usado la "Caramel" de Nabla), dando barridos de un lado a otro con un pincel de difuminar. Marcamos la cuenca y la v externa con una sombra chocolate mate (nº 207 de Deliplus) con un pincel de difuminar. Iluminamos el arco de la ceja con una sombra clarita mate («Brulée» de Wet n Wild). Aplicamos una sombra metalizada cobre («138 Fate» de Pierre Renè) con un pincel planito (234 de Zoeva) a toquecitos sobre el párpado móvil. A continuación la difuminaremos con un pincel para este fin (217 de Mac) dando suaves barridos en el sitio, sin movernos hacia arriba y ayudándonos de la sombra caramelo (de transición) si es necesario. A partir de ahora el trabajo será ir difuminando y añadiendo color hasta dar con la intensidad deseada. Aplicamos la sombra chocolate mate a la línea de pestañas inferior y la difuminamos con la sombra de transición. Delineamos ambas líneas de agua con lápiz negro y delineamos también con el mismo lápiz ambas líneas de pestañas sin hacer rabillo. Ahumamos ese delineado con sombra negra mate (yo he usado la «015 Moonlight Kiss» de las Colour Crush» de The Body Shop, que es negra pero no muy intensa), rasgándolo un poco en la esquina exterior del ojo e integrándolo con el resto de sombras.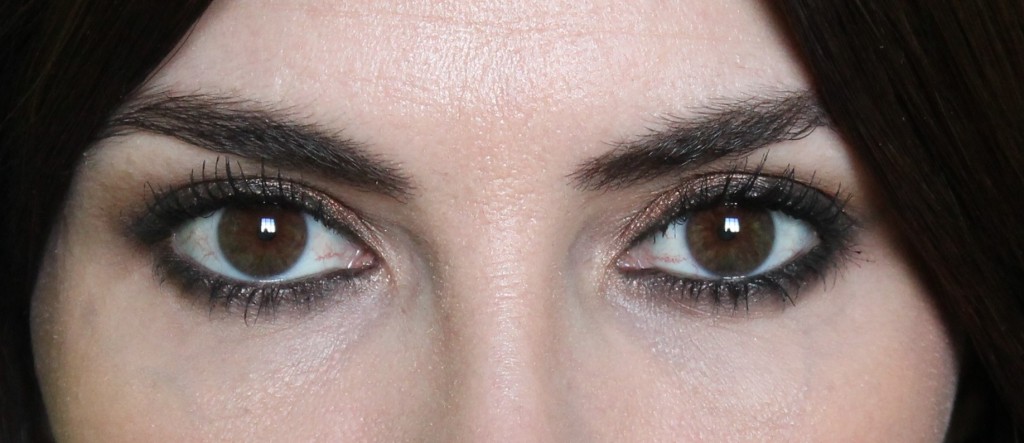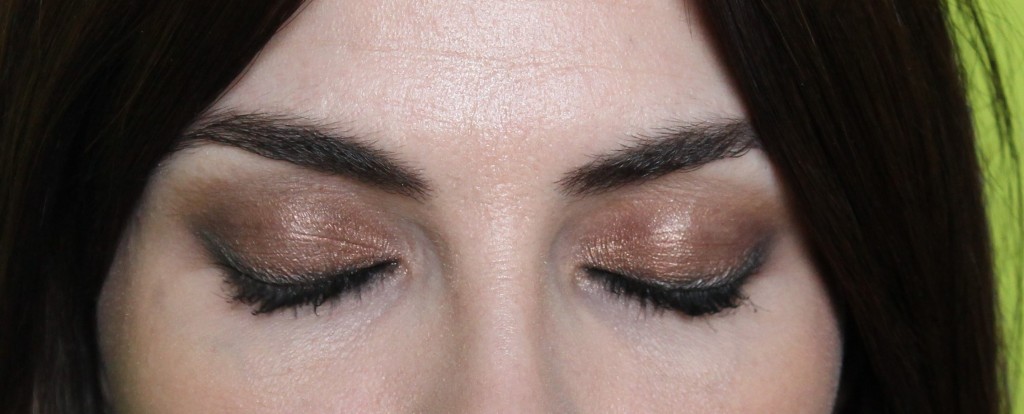 Eyes:
First thing is to apply an eye primer (Too Faced "Shadow Insurance"). Then, we apply our transition colour; "Caramel" by Nabla (which is a matte camel  eyeshadow), swiping it along the crease and a little above it with a blending brush. Then apply a matte chocolate shade (Deliplus "207″) to the crease and the outter V  and blend it all. Use a soft matte shade to highlight your brow arch («Brulée» by Wet n Wild"). To continue, apply a metal copper eyeshadow («138 Fate» by Pierre Renè) to your eyelid  with a flat brush (like the Zoeva 234) in a patting motion. Next step is blending any harsh lines with a Mac 217 brush in back and forth motions. Up to this point, it's all about blending to create soft edges and applying more colour in order to intensify it as much as you like. Apply the matte chocolate shade to the lower lashline and blend it out with the transition eyeshadow. Finally, we apply a black eye pencil to both waterlines and lashlines but without drawing a wing and we smoke everything out with a matte black eyeshadow (The Body Shop Colour Crush in «015 Moonlight Kiss» shade).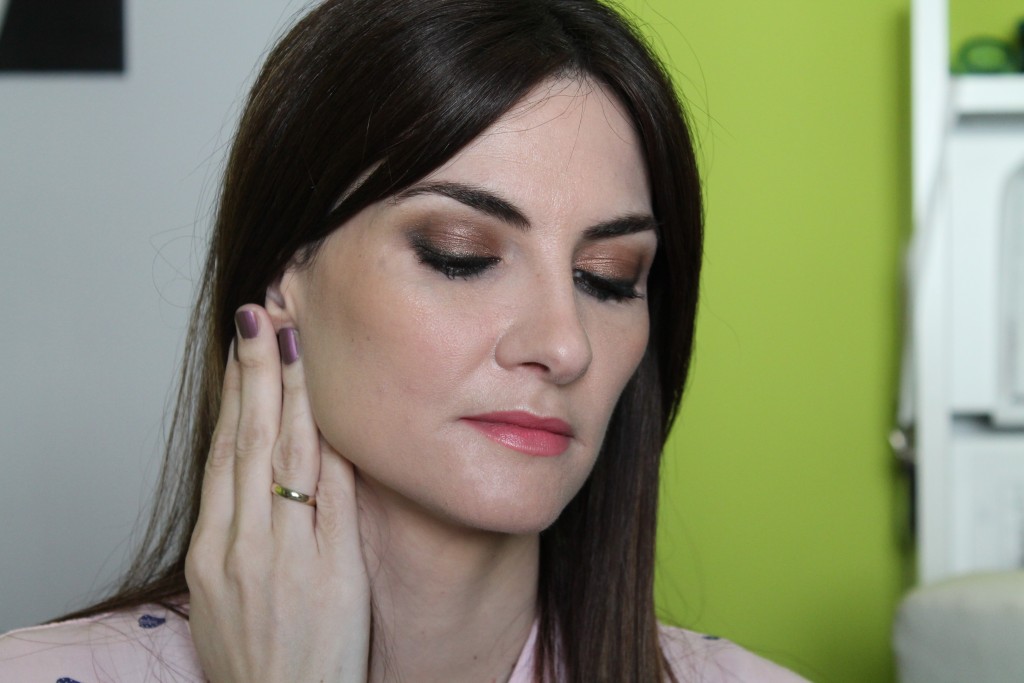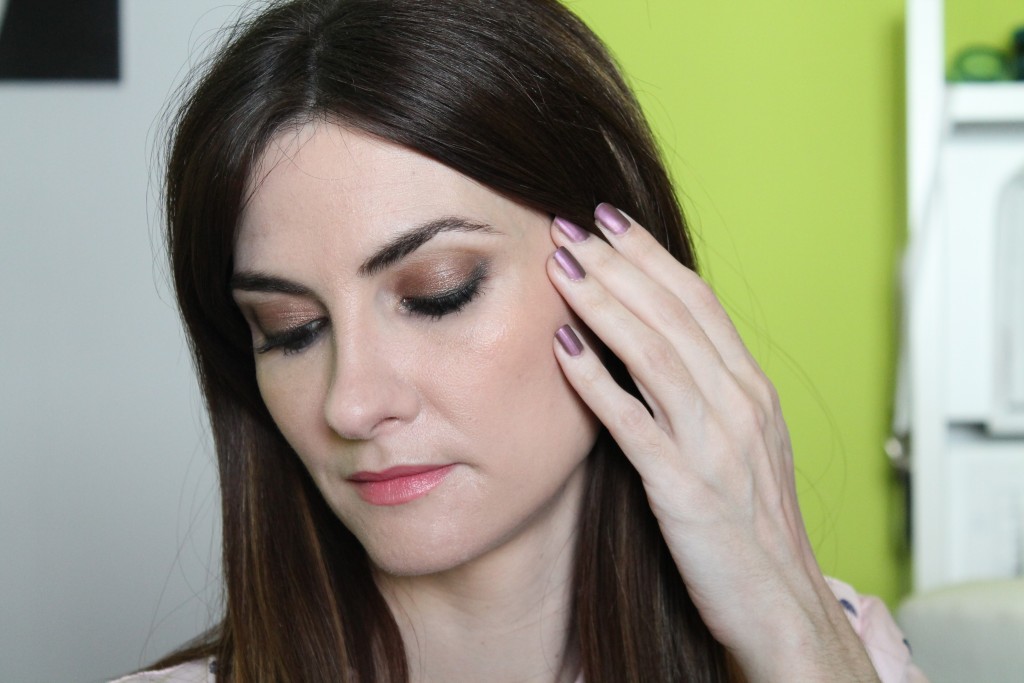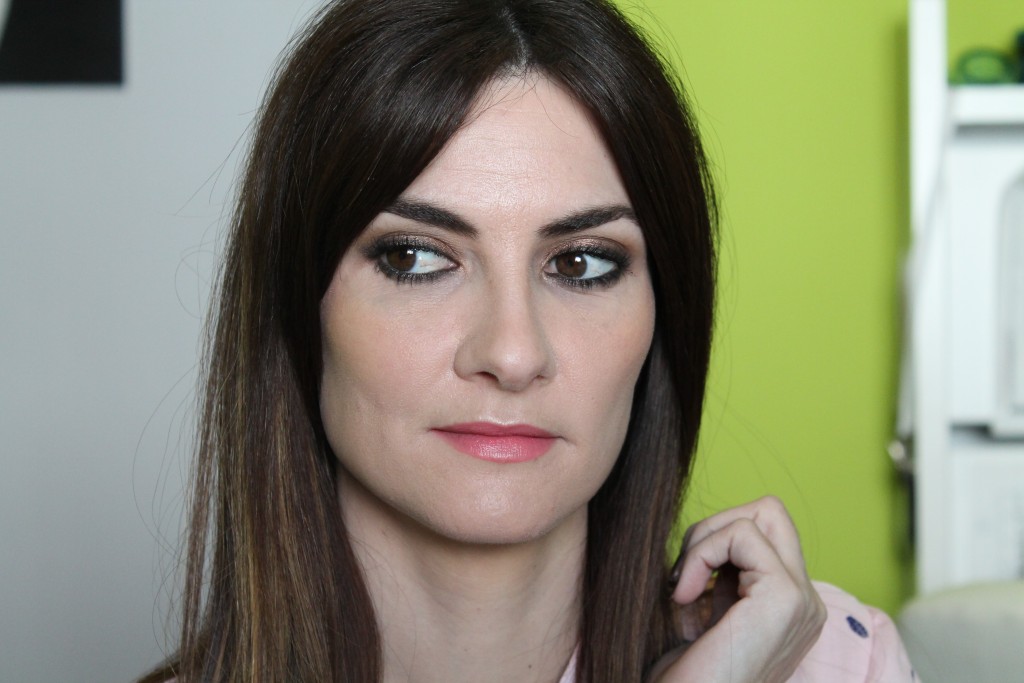 Finalmente rizamos pestañas y aplicamos máscara (en este caso la "Roller Lash" de Benefit y la "Better than Sex" de Too Faced). Si quieres saber más sobre estas máscaras de pestañas pincha aquí.
Next, we curl our lashes and apply mascara (a coat of Benefit "Roller Lash" and another coat of Too Faced "Better than Sex".)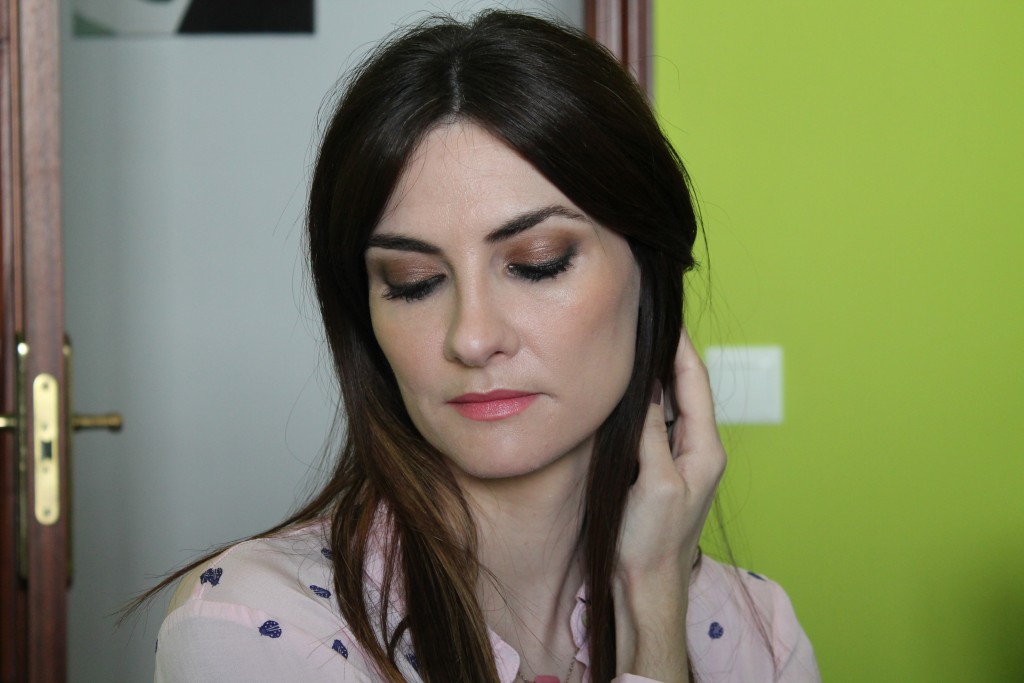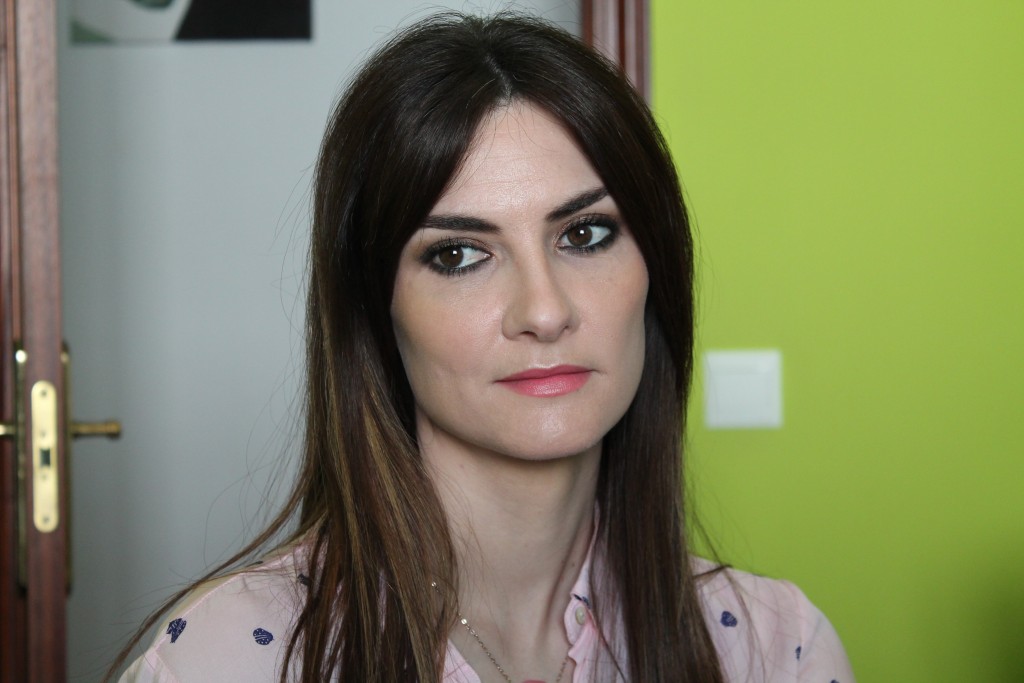 Cejas:
Rellené los huequitos con el lápiz para cejas en el tono "02 Medium" de Sephora y para fijarlas, usé el "Brow Drama" de Maybelline en el tono "Medium Brown".
Brows:
I filled them in with the Sephora Brow Pencil in "02 Medium" shade and applied the Maybeline "Brow Drama" in "Medium Brown" shade.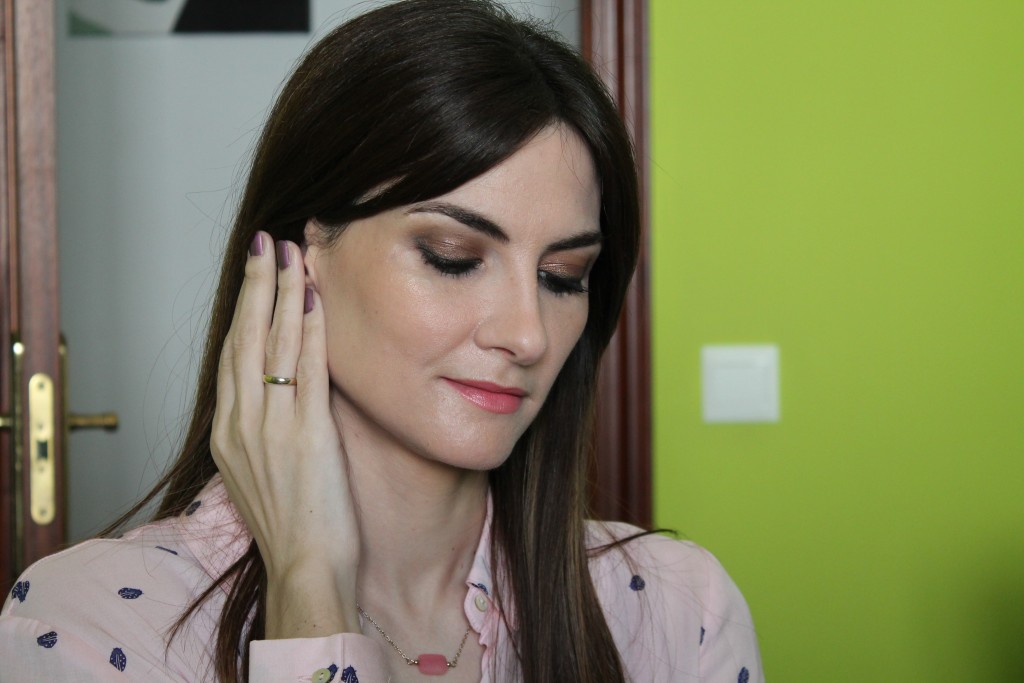 Rostro:
Antes de aplicar la base y con la piel ya hidratada, apliqué una prebase perfeccionadora en el centro del rostro y zona de la ojera, en este caso el  "Borrador Óptico» de Garnier y una prebase iluminadora la "Lumimagique" de L'oreal en los pómulos, puente de la nariz y centro de la frente.
Como corrector en ojeras e imperfecciones usé "El Borrador" de Maybelline en el tono "Light" y como base, la "Double Wear" de Estee Lauder en el tono "Pale Almond" aplicada a toquecitos con la brocha F80 de Sigma. Luego lo sellé todo con una capa muy fina de los polvos sueltos "Banana Luxury Powder" de Ben Nye, aplicados con la brocha para polvos de Ecotools.
Face:
Before my foundation and with moisturized skin, I applied a perfecting primer ("Perfect Blur" by Garnier) on my nose, chin and undereye circles and a luminous primer ("Lumimagique" by L'oreal) on top of my cheekbones, the bridge of my nose and my Cupid's bow.
As a concealer, I used Maybelline "Instant Age Rewind" in the lightest shade to cover imperfections and my undereye area and then, applied Estee Lauder "Double Wear" foundation in "Pale Almond"  with the Sigma F80 brush. Finally, I used the "Banana Luxury Powder" by Ben Nye to set all my make up.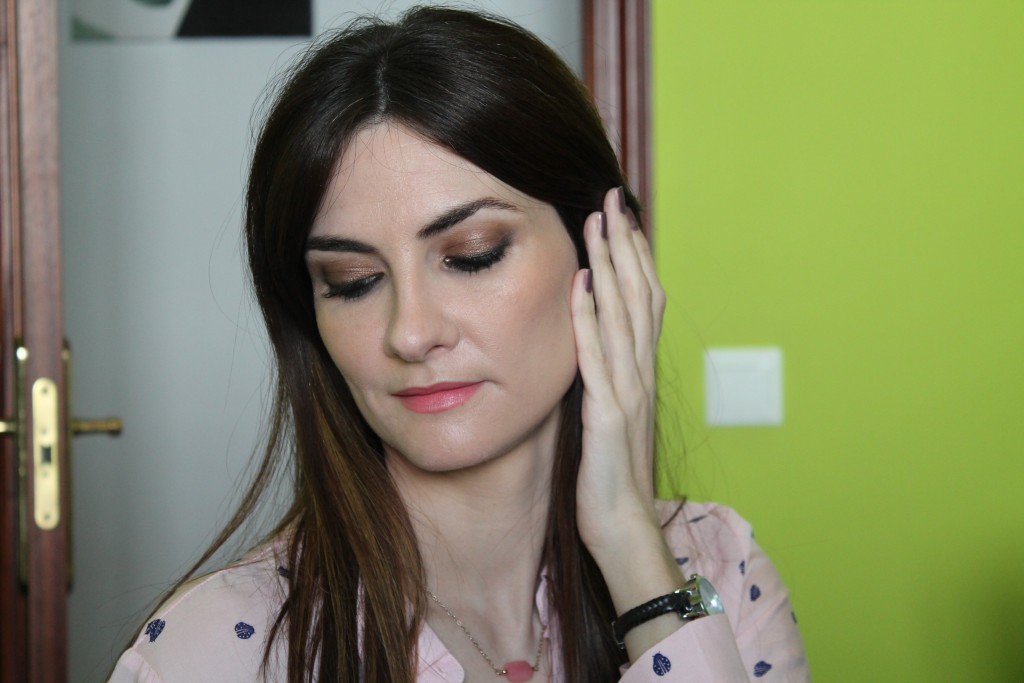 Contorneé un poco pómulos, nariz, mandíbula y laterales de la frente con el bronzer  "Beach Cruisers" de Essence (edición limitada). Como colorete, usé el "Berry Amore" de Milani. Como iluminador utilicé el "Mary-Lou Manizer" de "The Balm" (color champagne).
To contour my cheekbones, nose, jawline and temples, I used the Essence "Beach Cruisers" bronzer (limited edition). As a blusher, I applied "Berry Amore» by Milani and to highlight I used "Mary-Lou Manizer" by The Balm.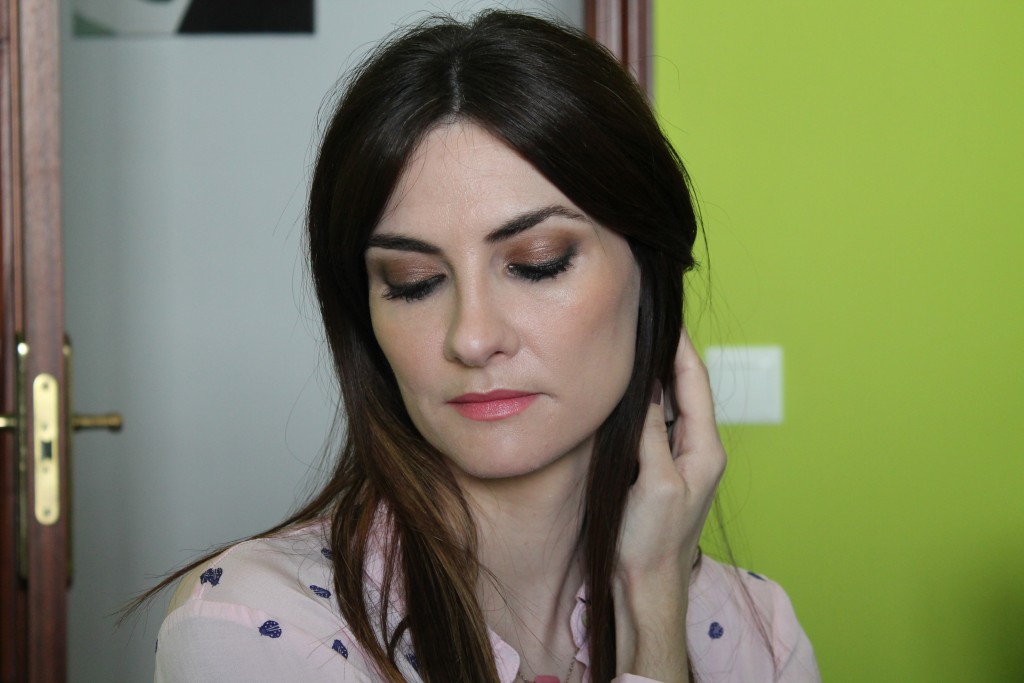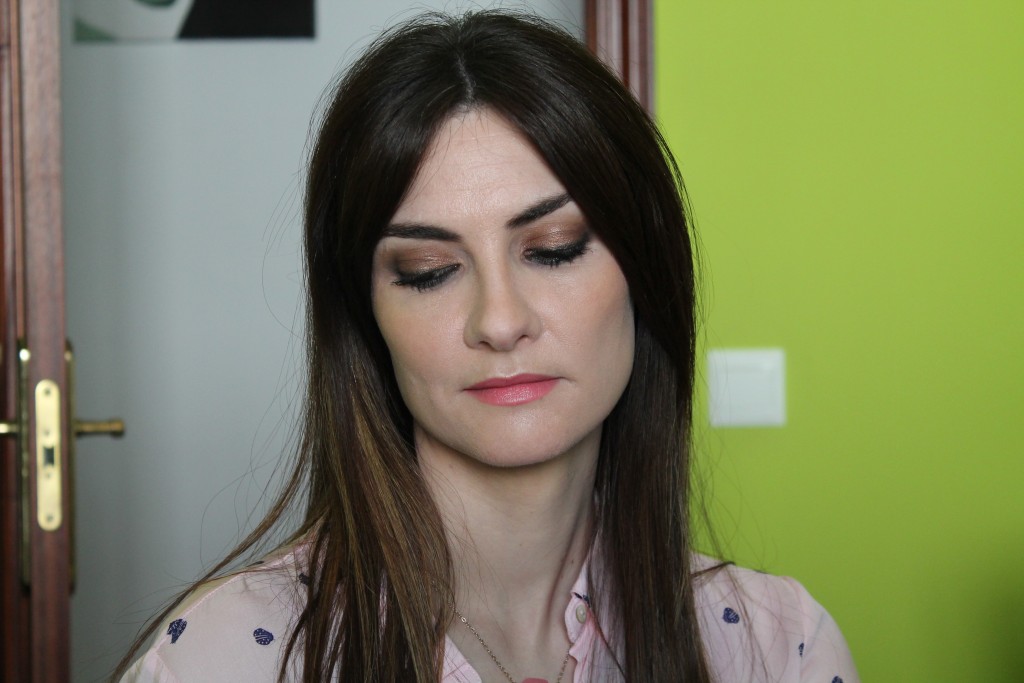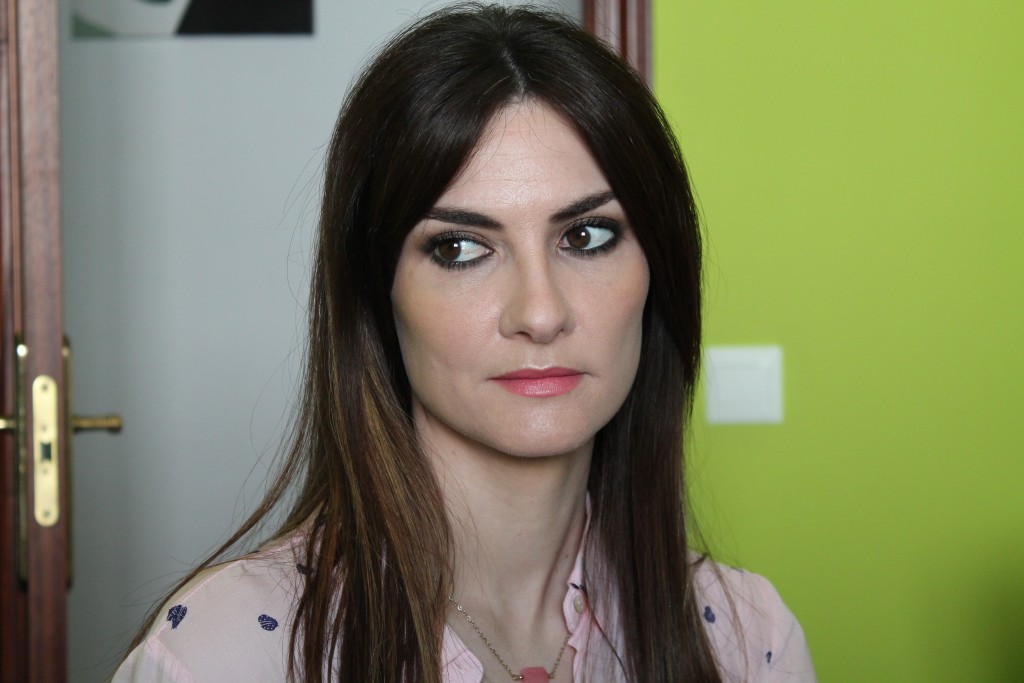 Labios:
"Prep and Prime" de Mac + labial Supermatte 207 de Flormar.
Lips:
Mac "Prep and Prime" + Flormar Supermatte Lipstick 207.
¡Y hasta aquí el look de hoy!
And that's all!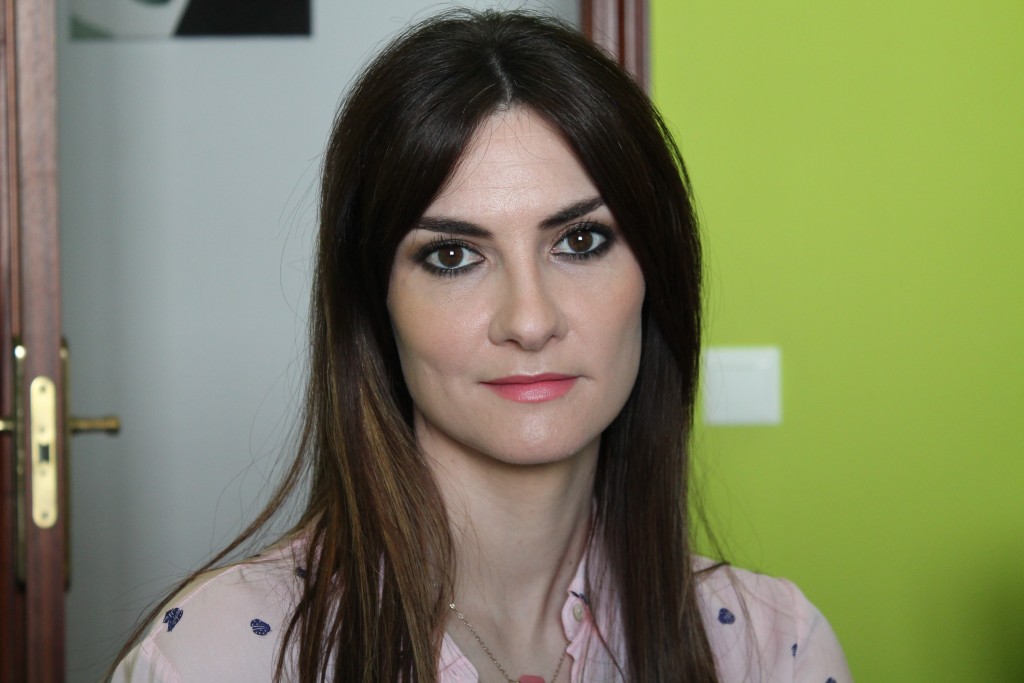 Espero que os haya dado ideas y si os ha gustado ¡suscribiros introduciendo vuestro correo en la cajita please! También podéis seguirme por instagram, facebook y twitter .
Un abrazote,
Raquel
I hope this look has inspired you and if you like it, please make sure to susbcribe! You can also follow me on instagram, facebook and twitter .
Best wishes and hope to see you soon!
Raquel